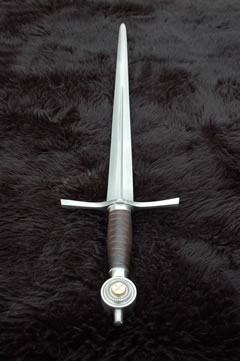 KING ROBERT THE BRUCE 700th ANNIVERSARY BANNOCKBURN SWORD
To celebrate the 700th Anniversary of the Battle of Bannockburn 1314AD a redefined profile of the Bruce's war sword as carried by him on midsummers day at the battle has now been introduced into the Claymore Armouries extensive collection.
In conjunction with the now famous portrait of the Bruce completed in 2014 by the artist and master swordsmith T Yeudall, this sword is now available for commission to collectors around the world.
Below are a selection of photographs clearly showing the definitive lines which make this sword unique to collectors.
Blade Type: Lenticular
Overall length: 47.5"
Blade length: 38"
Blade width at hilt: 1 7/8"
Blade width 3" from tip: 7/8"
Blade distal taper: 2/10" to 1/10"
Primary Percussion Point: 1/4 from end of blade
Secondary Percussion Point: Just inside the hilt area
Point of Balance: 2.5 from hilt
Sword Weight: 3LBS
Width of quillon bar 8 1/4"