Highland Longsword section A No.1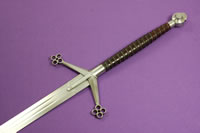 First pattern of the Viking Gaelic influenced two handed swords of The Highlands and Hebridean Isle of Scotland.
(CLAIDHEAMH-DA-LAIMH) pronounced Clyva-da-leve. The provenance placed on the original by the National Museum of Scotland is 1495 AD after considerable research work carried out by Claymore Armoury. A time frame of the beginning of the last quarter of the 15th century would be more in keeping with this sword's transition from the hand and half swords of the same 1/4 foil pattern as used throughout the best part of the 15th century.
Standard long sword as developed by the Gallowglass and used in slashing techniques against opponents and not for piercing.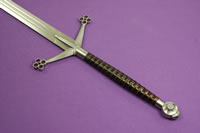 Blade Type: Flat Hexagon to Lenticular Double Fuller
Overall Length: 58 inches
Blade Length: 41 inches
Blade Width at Hilt: 2 inches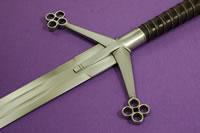 Blade Width 3" From Tip: 1 1/2 inches
Blade Distal Taper: 1/4 inch to 3/32 inch
Primary Percussion Point: 1/4 from end of blade
Secondary Percussion Point: just inside the hilt area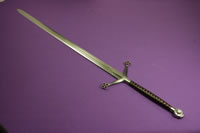 Point of Balance: 3 inches
Sword Weight: 4 3/4 LBS