Jeanne-De-Arc Maid of France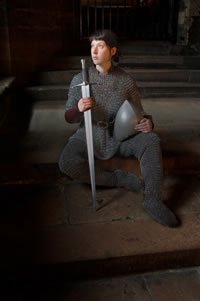 Born around 1412AD in the North Eastern town of Domremy in France to Jacques-De-Arc and his wife Isabelle, she had three brothers Jacques, Jean and Pierre and one sister Catherine.
The De-Arc family owned a farm of around 50 acres where all the family worked to maintain a reasonable way of life. Jeanne is known to have helped with the ploughing, harvesting and tending the cattle at the end of the day she employed herself in more feminine activities such as spinning of flax and wool sewing work was a regular pastime.

She was by all accounts a strong young girl both in will and physical attributes, I suppose today we would say she was athletically built, with her dark hair plain and comely looks she was no different to any other country girl of those days.

After her final visitation she left the farm at Domremy and travelled to meet the Dauphin and by the 11th of March 1429 she arrived at Poitiers for questioning about her mission to liberate France.

In the year that followed she changed the tactics and fortunes of the French army winning one consecutive battle after another beginning with her famous relief of the siege of Orleans and ending a year later with her capture on the 23rd of May 1430 outside the city gates of Compiegne a city under siege by an Anglo-Burgundian army.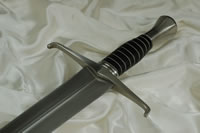 She became separated with a small contingent of her army whilst fighting outside the city walls, the portcullis was lowered possibly by perpetrators who had more to gain by Jeanne's capture than her defence of Compiegne. The Burgundian nobleman the bastard of Wandomme who captured her later delivered Jeanne to the English forces for the massive sum of 10,000 Livres Tourrois.They eventually tried her for heresy and murdered her in the market place of Rouen in Northern France on the 30th May 1431 she being consumed by fire. On the 7th of July 1456 she was fully acquitted after a retrial but sadly 25 years too late, in 1919AD finally she was declared a Saint.
Jeanne the maid of France led her armies from the front and was wounded many times on two occasions nearly ending her life. She preferred to carry her banner rather than wield her sword and standing high on her stirrups for all to see she would encourage her men to go forward and to attack vigorously she captivated all around her with her own extraordinary heroism and courage.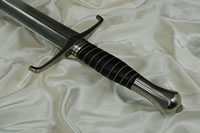 Her condemnation of blasphemy and swearing amongst her soldiers was well known any man whatever his standing in life who she caught within earshot using foul language was severely reprimanded, on some occasions a fine was imposed and for good measure a physical retribute by way of a whack on the head was often administered.
Jeanne De-Arc lived a short life by any standard but what an impact she made on friend and foe alike she is depicted here visiting a Cathedral and sitting quietly gathering her thoughts on her purpose and mission in life.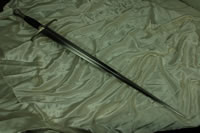 Blade Type: Central Spine Ridge Piercing Pattern
Overall Length: 40 1/4 inches
Blade Length: 32 inches
Blade Width at Hilt: 2 inches
Blade Width 3" From Tip: 1/2 inch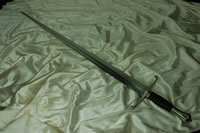 Blade Distal Taper: 1/4 inch to 3/16 inch
Primary Percussion Point: 1/4 from end of blade
Secondary Percussion Point: just inside the hilt area
Point of Balance: 2 1/2 inches
Sword Weight: 2 3/4 LBS