Historical Sketches by T. Yeudall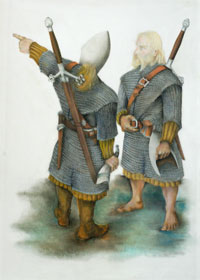 Giclee fine art prints artist/approved of Scottish Highland Warriors.
This is the first historicaly researched coloured sketch (final command) by the artist T.Yeudall. It will be sold as an open edition print in four sizes on acid free museum archival quality paper hahnemühle etching 315 G.S.M. using light fast inks.
It depicts a hebridean gallowglass Alexander Eochaid MacDonald, born during a time of great transition, when the Solengen Steel Blade of his long sword was being tested at times with the black powdered spherical shrapnel which was becoming evermore prevalent on his field of battle and for others like him.
Born into a world, a way of life that was in its last throws of mediaeval turmoil before the true light of renaissance would beckon his descendants to a different standing, a different attitude, a different dawn.
But for now his captain was to trust him yet again.
Alexander intensified his gaze on the far horizon; soon the battle horns would be sounded. Little knowing did they on that distant high ground, that what was about to ascend on them was more terrifying than any of their silly little nightmares.
Unbelievably swift, unbelievably silent, a complete and utter contrast to the deep and deafening roar of his lines which would precede this attack.
The above was taken from "History of Hebridean Gallowglass", by Thomas Yeudall.
A short history of the gallowglass will acompany the purchased print.
| | | | | |
| --- | --- | --- | --- | --- |
| No. | Size | Imperial | Metric | Price |
| 250 | A1 | 23 1/2" x 33" | 594mm x 840mm | £225 |
| 350 | A2 | 16 1/2" x 23 1/4" | 594mm x 420mm | £145 |
| 450  | A3 | 11 3/4" x 17" | 297mm x 420mm | £75 |
| 550 | A4 | 8 1/4" x 11 1/2" | 297mm x 210mm | £35 |
It will be dispatched in a large tube with full insurance.
Prices for shipping will depend on either UK or overseas.
Please click to contact payment and shipping if you would like to proceed with a purchase, just E-mail the Armoury or Telephone 01563 - 526492.